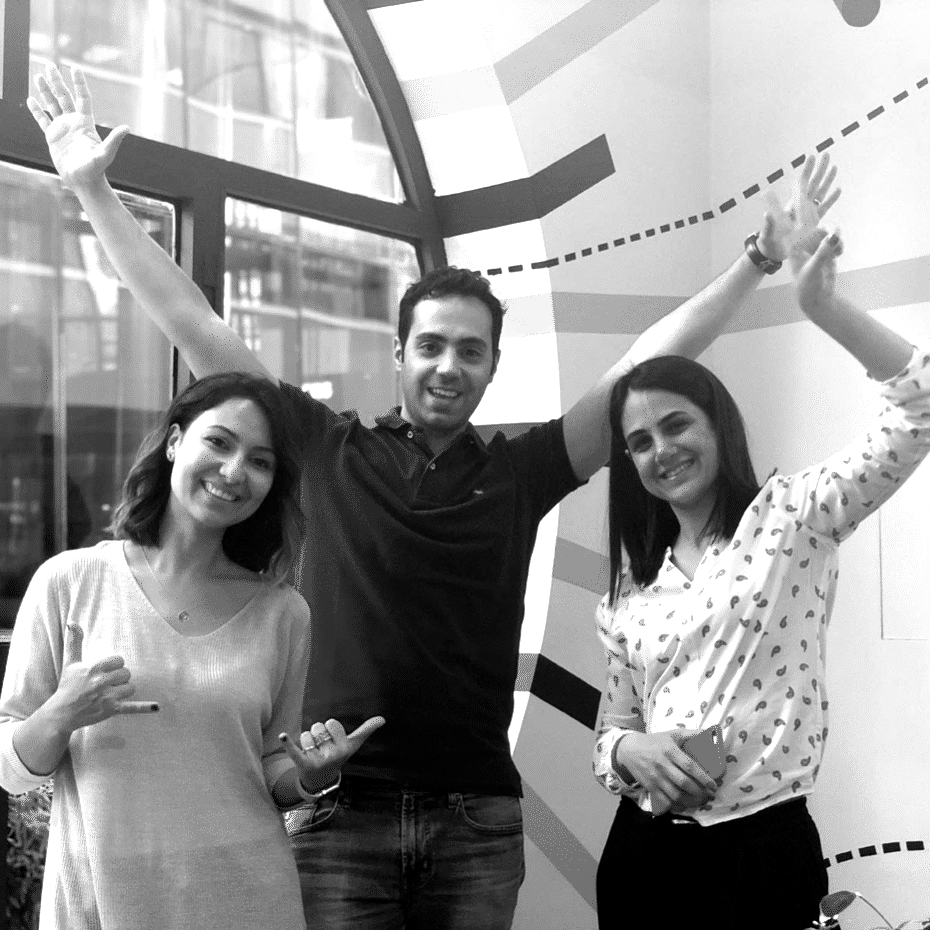 About Entrepreneurship on the Way of Pabbler
Ceren, could tell us about yourself?
I'm from Izmir. I studied at Bilkent University and Hacettepe University at the same time. When the firm where I was an intern offered me a position in Istanbul, my story began. I've always loved working hard and I did everything. Especially, when there was something to be done out of routine, my managers assigned me to do that. I started to give product training for Doluca Wines. At the same time, I was doing an MBA at Bahcesehir University. So, my gastronomy story began. Both marketing and gastronomy are my favorite areas. For 5 years out of 12-year of work experience, I worked in Arkas holding, which is a corporate firm. I had a chance to manage a project with Vedat Milor there. I've learned a lot from him. What excited me became the business development part. Meanwhile, Moet Hennessy of LVMH Group opened a branch in Turkey, which was my dream company, but it was a serious bargain for me. Until that day, I had managed many business partnerships and I was thinking that I improved in terms of the sector experience by increasing it academically. After the interviews that lasted approximately 3 months, I started working… People I met in corporate life always told me I have an enterprising person and I should set up my own business. Because when there was work in which there are many uncertainties and challenges such as a new department or a new product in Turkey, I always went there and aimed to create order out of that chaos. One day, while he was staying at his house in Burgazada, I visited Mr. Vedat to tell him about a mobile application. He accepted it and my start-up story began there.
When I was accepted for Female Founder Pitch of 500 Startups in January 2018, I went there right away. I was wondering how they do these kinds of things. I realized in this adventure that there is no unwieldiness in this order. On the contrary to corporate, you do everything, especially in the beginning. It's like you are in a labyrinth. A challenge shows up and you try to solve it. Thinking about whether you can go this way or that way and suddenly you see there is no door, you get back and try to find another way. When you find the way out of the labyrinth with the help of small pivots, another labyrinth shows up… It's like a whole piece of a puzzle that is intertwined. It's enjoyable as much as it is hard. So, it wasn't easy to leave so many beautiful things such as the brand, the salary, and the friends and jump into these uncertainties. Of course, facing my first failure quickly taught me that these things are much more different than they are in corporate life. I started to find a new project, and I decided to found Pabbler by especially being impressed by Guy Kawasaki, whom I had a chance to meet and read all of his books. While starting out this together with my teammates from the other project, we decided to apply the experience, network, and knowledge that I gained in corporate life to the dynamics of the entrepreneurship ecosystem.
Do you always read books about the ecosystem?
I mostly read books about the ecosystem. Apart from that, the books about how our brains work, or the dimensions of time attract my attention. It is also important to know when you will read which book. For example, When Onur Kutlu Gago mentioned the books to read while founding a start-up, I met with "Founder's Dilemma" and "Rich Dad, Poor Dad" by Robert Kiyosaki. I really found more in these two books than what I found in the books I had read until that, such as Chaos Monkeys, Blue Oceanshift, Hard Thing About Hard Things, because both tell the exact situation I was in at that time. Reading by internalizing it feeds me a lot. I don't read a book just to read, I read because I wonder. I mostly prefer postmodernist writers. Our editor said the reason my story was published in the book written by Emre Alkin and Yalin Alpay is that I read a lot. It's not enough to concern only with the books. I aim to certainly learn from my mistakes. For example, there is an event called Fuck Up Nights in Turkey, I think it is very important; because the more you learn from your mistakes the better you become. Your progress in your own project by taking these into consideration. We have a start-up that we got its story from books, as well. A start-up which brings you various kinds of things abroad by travelers, its name is Pabbler. We named it by being inspired by the pebbles that Hansel and Grethel put on the road to find the way back to their home. So, that means every product that Pabbler brings leaves a trace on people's lives. We think that our name matches up with our brand and goals a lot. We are at the level of MVP. So, we want to come across with so many mistakes at this level. But we still can find time to read and do exercise while working for 17 or 18 hours in a day.
You have an incubation center experience, ITU Cekirdek, what did this place teach you?
I think all the platforms in the ecosystem are essential; but before starting somewhere, you need to do research beforehand. Because it is important to progress knowing where you apply and what you aim at which level. My biggest chance is to get accepted for ITU Cekirdek. I was in the first 70 people in the Big Bang contest where 11,000 people applied in 2017, but I couldn't get on the stage, my project didn't work, I made a lot of mistakes, but it taught me a lot. ITU Cekirdek was elected as the third-best incubation center at the beginning of 2018 all around the world. It certainly deserves this. First of all, its mentorship network is so large, and they really teach you a lot. Apart from that, start-ups support each other so much. For instance, Baris from the team of "Evdemimar.com" made my first landing page when he realized I couldn't do it with the WordPress course I took from Udemy. There is serious network sharing and even if you fail, there is no reason why don't start again with the opportunities it provides. So, ITU Cekirdek is certainly the right address. I couldn't get out of there with an award and that project doesn't exist anymore, but it made me adapt to the ecosystem so quickly and fed me with its all sources. What I hear the most nowadays is this; "I don't want to work much; I want to work in a start-up." The incubation centers like ITU Cekirdek are challenging places. With their contests, presentations, what they expect as written or printed… It's not easy to be able to meet the expectations of incubation contests while doing your other things. So, it's not all lavender and roses, you need to work well-disciplined in order to progress in ITU Cekirdek. With our new project, we aim to be in the global programs, such as ITU Innogate, YCombinator, and Founder Institute…
What are the most important things that you realized in this ecosystem?
I have realized that there are two sides to the same coin. One of them is that you get as much as you give. So, you need to work hard. I was also a sharing person when I was working in corporate and I think the importance of sharing will increase in the future, so that's why I wanted to work in a business based on a sharing ecosystem. It comes back when you share it. Of course, it is also important with whom you share. And that's the other side of the coin. I have encountered negative things in this process. Although I have been in this ecosystem very recently, I have seen so many people hesitating to do market research about their projects because they are afraid that "someone will steal their idea". I think what is more important than the idea is to improve that business. Because, you add from yourself, and it becomes a part of you. Since everyone has their own way of doing something, I believe that the same idea can be in different versions.
I guess the biggest difference between Turkey and the global is the battle of egos. I am 35 years old, and one of my mentors was 23 years old. And I think this is the right thing to do. He brought down 2 start-ups, and he succeeded in another one. I have learned a lot from the friends of my sibling. They are 10 years younger than I am. You can't know what you will learn from whom; so, you should be open to everything and share your idea with everyone. I think this is the biggest difference between here and abroad. We can't test it. We move slowly. We can't test the idea while taking actions cautiously so as not that someone steals our idea, our product. If it is a real invention, they must get its patent, if not, they must get NDA signed; but for other situations, a person finds a chance to look from a different point of view if s/he talks with people as many as possible. Especially, in the first processes of the business.
Another thing that I have realized is that we love saying "I did it." for something. Though, an entrepreneur should know its marketplace its metrics so well; they need to work on what will happen about that sector in the world, how the leader of the sector behaves, what kinds of strategies they should progress in the following segment.
Mentors make good comments by looking at it from outside, but the entrepreneur should choose the ones which will help them among all comments, by knowing their project all-round. It is not true to try to do all the things a mentor has said. So, they should strike a balance between them.
What are the advantages and disadvantages of entrepreneurship in Turkey according to your opinion?
I don't have much experience in this sector abroad; I have made a program compressed in a short while. But let me summarize the advantages and disadvantages of Turkey when compared to abroad with the things I've experienced. I have observed that things happen faster than they do in Turkey. Even one of my mentors said, "could you do your yearly vision in a month, test it in a week." It was a lesson for me. I suggest the same thing for all the start-ups because our biggest advantage is that the tests which we do in the marketplace can be measured at reasonable prices. One of the reasons why big companies do their tests in developing countries like us. It has been 2 months since we founded Pabbler and we have weekly recurring customers, we are growing organically and doing tests at the maximum level. We have really good software developers. I see that most of them are going abroad… And this is the situation where the advantage becomes a disadvantage. I appreciate motivating share dividing in the team such as stock option or vesting. It is so important to separate the share before you start. One of the advantages of Turkey is this. Investors guide the entrepreneurs so well with their visions and experiences. There are experienced investor groups like GBA that know well how to progress in a share range situation in future.
You have been to Silicon Valley recently. What did you learn there, what did you experience? What differences did you observe there when compared to Turkey?
First of all, I have realized that they are so fast. I've said this before. But this is what impressed me the most. Secondly, they do what they say, they follow it to the very end. This is what we don't have. Working with suppliers following the work was what I paid attention to the most when I was working in corporate. I apply this to my personal life as well. Because you can't get to the end as long as you don't follow it. I made a good plan before I went to the U.S.A and organized beforehand all the meetings with the people I wanted to talk. These are my suggestions for my friends here. They should have a program in which they know even when they will drink a cup of tea with whom when they go there. Because generally, people don't have time to waste. You need to have the foresight to be flexible for the problems you may have. There were people from whom I tried to get an appointment and sent approximately 12 e-mails, and they replied to my 12th e-mail. I mean I've learned that I shouldn't give up. If it is already negative, they say this right away. For example, they write "I don't have time for it." But we need to analyze what we expect from whom. Before going there and meeting with them, you need to specify who that person is, what they can give you, and what you can get from this meeting. Because the people sparing time for you to decide whether they will be your mentor for the long term at that time being. If you don't know what you need to expect from those people beforehand, it becomes just a waste of time for both sides. I've mentioned that I had a chance to meet with Guy Kawasaki, I think he has a very valuable vision. He just spared one and half a minute for me, but he gave a very important part of my business that I am doing now. And also, you need to know yourself well when they ask you "Who are you, what are your experiences, why should I spare this time for you?". For me, my 12-year experience in corporate and references helped me a lot.
What do you suggest to people who go there to develop their business or for investment?
First of all, they need to know very well at which level their product is and their aim to go there. I think the whole plan should be made on this. I mean, as far as I observed, if they want to get investment, they should decide on which investors they want to meet, which platforms they can contact these investors, if they can, getting an appointment beforehand makes the process faster. According to which country they will go, following the events on good platforms such as Meetup and Eventbrite helped me a lot, as well. I mean, on these platforms, I carefully selected and registered in these events by looking at which events I can participate in to show myself in that country before I go and who will attend these organizations one by one on LinkedIn. The competition is at a different level there, for example, the person who made a presentation before me in the contest I attended was talking about they scan nine million pictures with ML and the accuracy percent of the picture is 97. So, I suggest they search who will be their rivals. It's important to know what the differences between you and your rivals are. Also, for the ones who want to develop their business, I suggest they make their first meeting on "hangouts" or "skype" and in the process of agreement, they should go to that country, if necessary. I think it is very important to use the sources cleverly especially in the very beginning. And as far as I observed, some of the investors in San Francisco progress by being professional in that sector. For example, the potential investor group that we are in contact with only focuses on the logistics and make investments in this sector. Making these kinds of investor groups a priority can contribute a lot to the impact of the investor's experience in the sector.
So, do you think an angel investor is a necessity in this process? What do you think about that?
My experience regarding investment processes is only based on a corporate company's merger and takeover. I don't have experience with the early stage, so, I can only share my general observations. I don't think it is right to only think of "money" when an angel investor is mentioned. An angel investor can contribute a lot with his or her experience and network. I mean, I agree that you need a budget to do these; but I don't think it is favorable to agree with an angel investor just because of the amount of investment. The vision and reflexes of the angel investor in the short and medium-term are among the most important factors that directly affect the entrepreneur's success. But of course, the necessity for angel investment also depends on the strategy and dynamics of the start-up. I mean, if the entrepreneur can use the angel investment as a "lever" and the angel investor thinks s/he can utilize the investment, there may be so nice examples for the "win-win" relationship.
Now, let's talk about the creativity part. What inspires you, what feeds your creativity?
I like doing research a lot. I read a lot. I have a wide circle of friends and each of them is professional in different areas. I have the chance to talk with them at enjoyable times and I see its effect on my daily life a lot. Sometimes, I create some challenges to develop myself and the team. For example, when we have a new teammate, I assign a buddy or tell them to form a basketball team to good at coordination. But there is no pressure, we always work with pleasure. We have six interns, each of them brought one of their friends and we are taking smart steps in forming an organization that we improve by learning and working pleasantly. And I realized that I learned to use the sources better for the long-distance when I started 10K runs. I used to be a good sprinter when I was a kid and I understood how different they are when I started to experience it. So, the most important thing is to try. I think different hobbies extend the vision. For example, I had a chance to be both a pilot and a co-pilot in the classic automobile contests. I guess when you have the chance to drive a 1966 model Mustang, the inspiration comes on its own. I also think the courage to utilize opportunities is an important part of creativity.
Let's talk about Galata Business Angels. What does GBA contribute to the entrepreneurship ecosystem according to your opinion? And how does it represent the concept of an angel investor?
First of all, Galata Business Angel is one of the investment groups that started this in Turkey, and I think that's very precious. Also, as far as I know, it is part of international networks such as "European Business Angels Network" and "Global Business Angels Network". So, I think it is an investment network that the people, who have an international start-up goal, certainly should come and introduce themselves. There are very precious people, who invested in the GBA's portfolio, among the investors from whom I received feedbacks for my presentations I made in Kolektif House and ITU. Having these precious people in an investment network in harmony is Mr. Ata's and your secret, I guess. Another part of GBA is the mentorship activity in which you can learn a lot of things even at the basic level or in progress. Just like other investment networks, GBA has a precious contribution which includes angel investments for Turkish start-ups, mentorships, and "know-how" sharing.